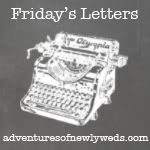 Dear Husband, I can't wait to see you after work. You have been gone all week! And as much as I like having me time, 5 days of it is getting old!
Dear Running Schedule, get ready. We're going to be best friends come Tuesday because I'm going to be ready for spring!
Dear Mom, are you ready to train to run? I'm not sure that you are but ok. Let's do it!
Dear Body, I promise you will feel better after you get in the routine of working out again. Let's get HOT!
Dear Readers, I have made lots of goodies for you this week since my husband was gone! Lots of fun tutorials, I hope you're ready!
Dear 5 o'clock, c'mon already. I'm ready to see my long lost husband!
Dear Husband, you better be ready to cuddle. I haven't seen you for a week and we have to make up for lost time! I know you hate it but you'll survive!