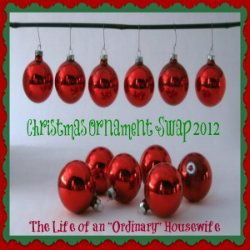 I don't know about you but I'm excited for Christmas this year. This is technically our second year in our house around Christmas time but last year we had just moved in and we were a little unorganized with it.
Every year my husband and I exchange an ornament on Christmas Eve. We usually pick out something that represents our year, or just makes us think of the other person when look at it. We write the year on the ornament somewhere so we can always remember when we exchanged it. I plan on keeping this tradition going as long as we're alive together.
So, I thought, how fun would it be to have an ornament exchange with all of you? Sounds wonderful I think! Please grab a button and spread the word! The more people that sign up the better the swap!
I'm so very excited. If you sign up, please be committed. If you think you won't be able to do it, please don't sign up. There is someone else out there that is going to be depending on you to send them an ornament. If they put time and money into swapping with you and then don't receive anything in return they probably won't be very happy. Also, I would appreciate a follow if you're going to participate.
So the details are as follows:
Sign ups will be

November 7th-November 16th
On

November 19th

, I will email everyone to make sure that you are still interested and to make sure I have everyones correct email.
November 20th

, I will email you with your partners information.
You will have until

December 7th

to mail your partners ornament. You will be required to send me a picture of your postmarked package by that time so I can make sure everyone gets an ornament. That gives you

2 1/2 weeks

to pick out or make your partners ornament.
I will have a link up on

December 17th

so you can show off your pretty ornaments.
I will have more details in your email that will come to you on November 20th. I will also remind you of the deadlines.
Please fill out the form below and if you have any specific requests let me know! Please be detailed and specific! Chances are you will get something you're really going to enjoy if you're specific!
ALSO...THIS IS VERY IMPORTANT...PLEASE CHECK THE SPELLING OF YOUR ADDRESS AND EMAIL ADDRESS! IF I CAN'T GET A HOLD OF YOU THROUGH EMAIL, YOU WONT' BE ABLE TO SWAP.