I can't believe it's Friday already. Seriously, this week has been one of the fastest weeks of my life! But on the plus side of things, it's raining and that is a HUGE deal here because we haven't had a solid rain in a while! {I'm sure that's the case in most places}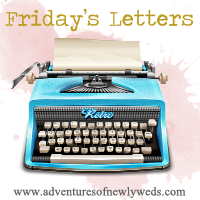 Dear Husband, I know you want to go dirt bike riding on Sunday but I think you should stay home with me and cuddle all day. {ya right}
Dear Best Friend Jessica, I can't believe I get to see you on Thursday. I have so much planned for us and you're never gonna wanna leave. {I hope}
Dear Vacation to the Bahamas, You are T-15 days away! I'm already in love with you, so I know our uniting with be glorious!
Dear Non-Bathing Suit Body, What are you doing? I told you we had to get in to a bathing suit at the end of the month and you waiting until 2 weeks before to care! :0/
Dear Brain, quit thinking that you're going to starve to death if you don't have that extra helping or McDonald's french fries. You won't I promise.
Dear Today's Date, You're pretty fun to say...8 10 12. Ok. I know I'm wierd.
Dear Husband, I'm so in love with you! You are the only person I want to spend forever with. Thank you for loving me!